At the Policy Center, we have decided to embrace the digital opportunities brought forth by the pandemic to offer a virtual alternative to the Atlantic Dialogues : the AD Talks. After six live discussions during the month of November which gathered more than 10 000 people from more than 157 different countries, we started the month of December with discussions on States and the Future of Democracy, Global Cooperation to Address Global Crises and the Welfare State in the Global South. All of the sessions are available to watch on ad.policycenter.ma! Don't miss our upcoming live discussions until the 23rd December.
Biden et la politique étrangère américaine de sécurité : redonner confiance aux alliés
Policy brief | Abdelhak Bassou
Le mandat du président Trump qui, sauf miracle, s'achève en janvier 2021, avait soumis à rude épreuve les alliances des Etats-Unis d'Amérique avec plusieurs pays et entités européens et asiatiques. Plusieurs de ces alliés stratégiques des Etats-Unis avaient, alors, perdu confiance en l'esprit de solidarité qui a toujours empreint l'action étasunienne à leur égard, et amorcé des réflexions sur la construction de ... Read more
What Could President-Elect Joe Biden's African Strategy Be?
Opinion | Souha Majidi
The Trump Administration "America First" policy changed U.S. foreign policy towards the African continent. Trump opposed trade agreements with several countries, considering them to be unfavorable to the U.S., given the nature of the African market. He shifted the U.S. concern in Africa from fighting against violent extremism and terrorism to a direct competition with other great powers—China and ... Read more
Attitudes des populations face à la pandémie de COVID-19
Survey | Mhammed Dryef, Saad Badaoui, Dominique Guillo
Comprendre l'attitude des populations dans le contexte de la pandémie actuelle de Coronavirus est un enjeu capital. L'objectif de la présente enquête est d'étudier cette attitude, à travers une série de sondages sur la perception de cette pandémie, des mesures prises par les décideurs publics pour y faire face et de ses conséquences pour l'avenir. L'enquête vise également à analyser les différences d'attitude selon le niveau de vie, l'âge ou encore ... Read more
LES NOTES DE RECHERCHE:
Africa's Insurance Potential: Trends, Drivers, Opportunities and Strategies
Research paper | Landry Signé
The insurance sector is rapidly expanding in Africa as firms, households, and governments are increasingly becoming customers in life insurance, non-life insurance, and reinsurance markets. In 2019, Africa's insurance premiums were valued at $68.15 billion. The largest insurance markets can be found in South Africa, Kenya, Egypt, Nigeria, Algeria, Angola, and Tunisia, which together comprised 83% of all African premiums in 2019 ... Read more
Selective review of food security policy worldwide: what can be learned from international experiences in order to shape food security policy in africa? - Part II
Policy paper | Isabelle Tsakok , Fatima Ezzahra Mengoub
Food security for all requires (i) sustained productivity growth and competitiveness, not only of agriculture but of the entire economy; (ii) a social safety net; and (iii) resilience in the face of periodic shocks. This is the central message of this review. Two popular concepts in food security for all are food self-sufficiency (FSS) and food sovereignty (FSY). ... Read more
Read the first part of their analysis here
Le Polisario : point d'histoire, plutôt un discours mémoriel
Policy paper | Khalid Chegraoui , Noureddine Jallal
L'histoire du Polisario, loin de prouver une quelconque légitimité, est en réalité un produit non discursif, plus confus, produit et délégué à une consommation interne, et à une stratégie de propagande à l'extérieur. L'organisation séparatiste qui réfute la marocanité du Sahara, ne possède que des récits épars. Des récits basés sur des entretiens oraux et des semblants de rapports de réunions, postdatés généralement, des constatations et des déclarations de mémoire des uns et des autres, en l'absence de l'existence d'une réelle production historique, archivistique ... Read more
Macroeconomic Policies in times of COVID-19 in Emerging Markets: Early Lessons
December 9, at 15:00 (GMT+1)
The human and economic impact of the Covid-19 pandemic remains uncertain and difficult to forecast...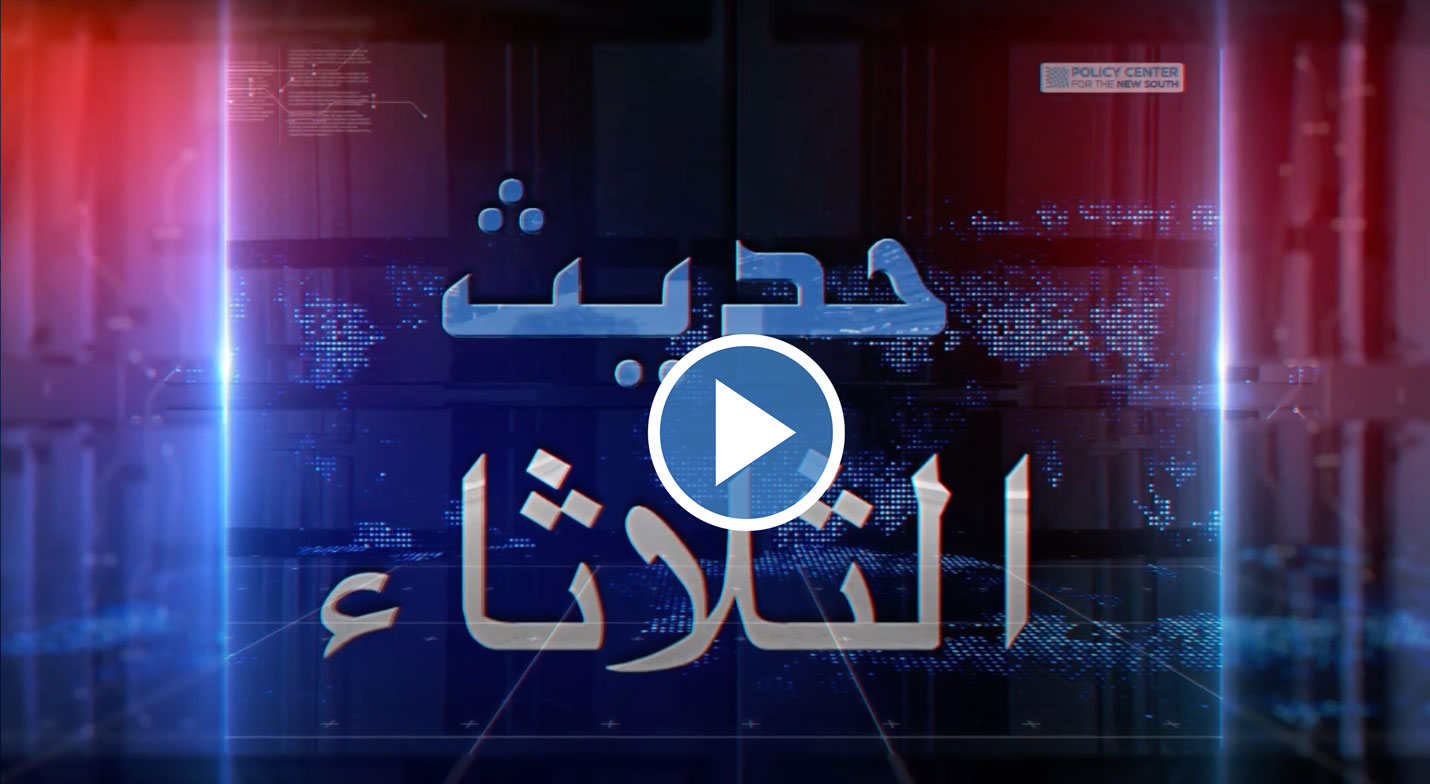 الثابت والمتحول في السياسة الخارجية الأمريكية بعد الانتخابات الرئاسية
جرت الانتخابات الرئاسية الأمريكية 2020 في ظل ظروف استثنائية عرفت متابعة شاملة لمجرياتها في مختلف بلدان العالم لما لها من وقع على مستقبل التحالفات والسياسات الخارجية للدول. كيف يمكن تحليل السياق الذي جرت فيه الانتخابات من أجل فهم التحديات الرئيسية للولايات المتحدة الأمريكية على المستويين الوطني والدولي؟ كيف يمكن تقييم تعبئة الناخبين لصالح الحزبين الجمهوري والديمقراطي؟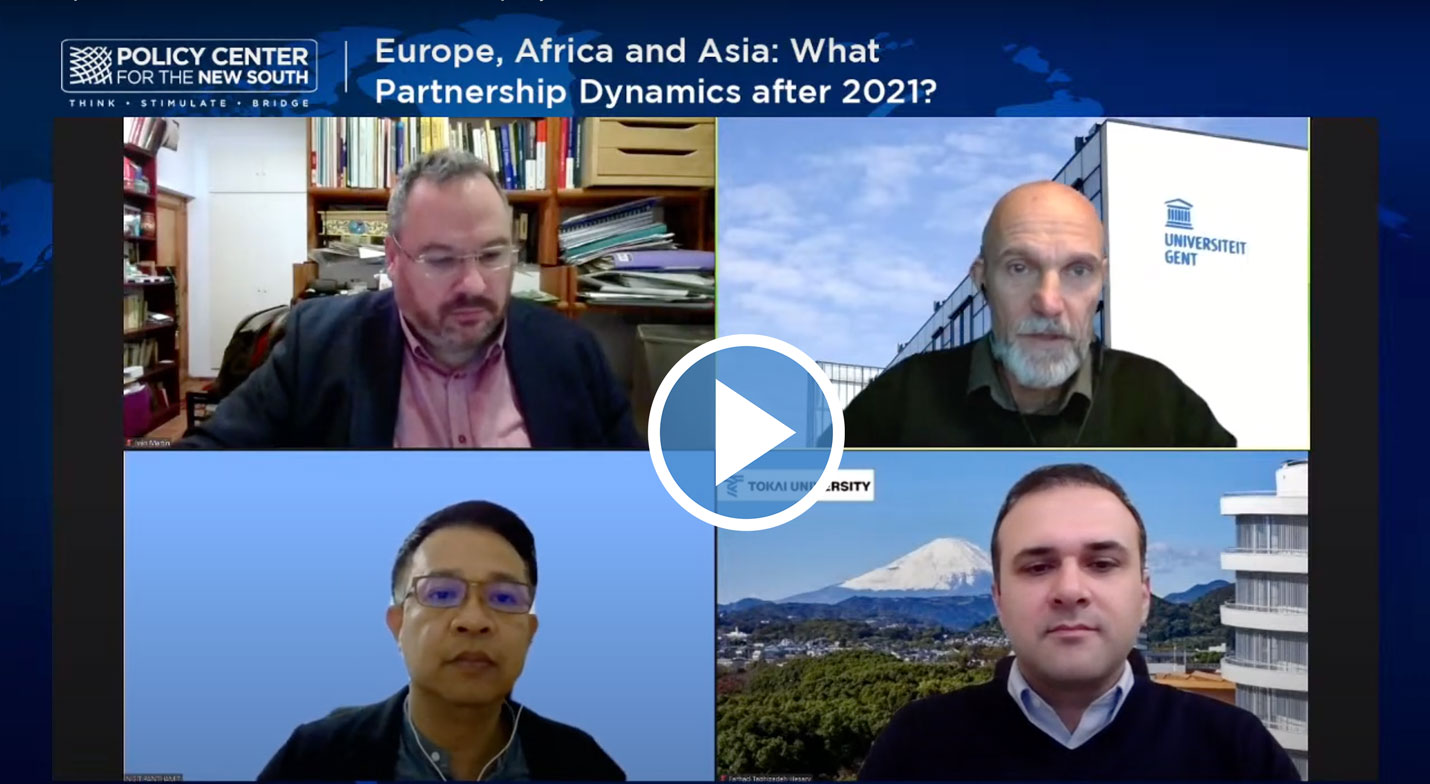 Europe, Africa and Asia: What Partnership Dynamics after 2021?

The COVID-19 pandemic has highlighted the effects of globalization and deficiencies resulting from the absence of a clear vision and a coherent action on the geopolitical projection of the European Union (EU). This issue is also at the very heart of the new European Commission (2019-2023). What is notably at stake is the 'future of Europe' but also the development of new partnership...
You are receiving this email because you have subscribed in the past, attended one or more of our events, have contact with our staff or Fellows or broader network. We consider that you want to keep receiving our think tank's publications unless you unsubscribe from our mass mailing system.
Unsubscribe from this mailing list | Update your details | Other requests
Policy Center for the New South
Complexe Suncity, Building C, Av. Addolb, Albortokal street, Rabat, Morocco
www.policycenter.ma | contact@policycenter.ma

© 2020 Policy Center for the New South. All rights reserved.