Atlantic Dialogues Emerging Leaders tackling local and global issues through concrete projects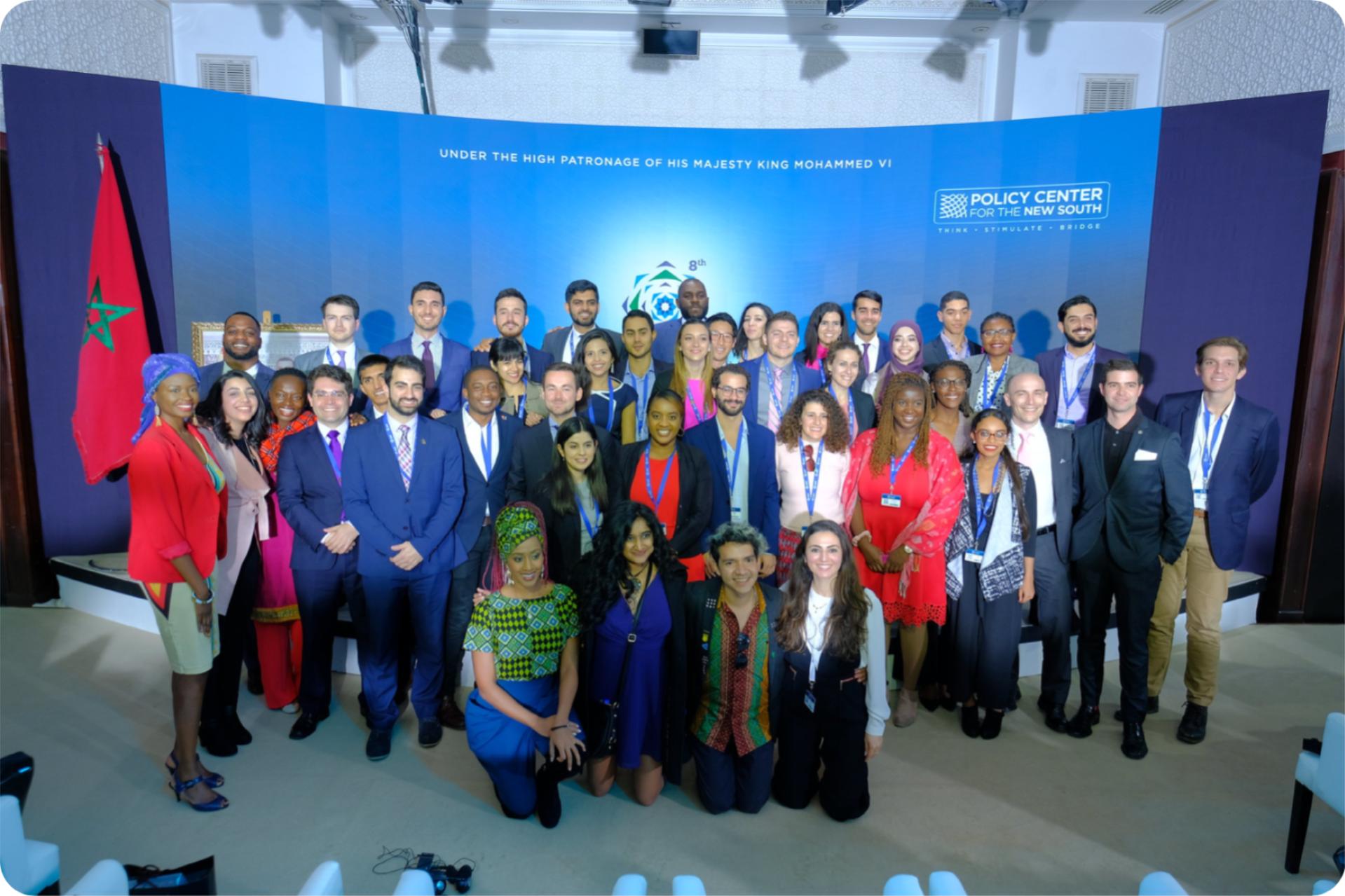 To strengthen the role of youth as agents of community development, the Policy Center for the New South launched a year ago a call for projects grounded in new and innovative approaches to existing local problems. Within our role of promoting locally sourced and sustainable development in the South, this call for projects came as a natural extension of our continued commitment to supporting the proactive and creative engagement of young leaders in the development of their communities. The Policy Center is committed to supporting the Atlantic Dialogues Emerging Leaders program (ADEL) community in scaling up their projects through this first edition of the call for projects which focuses on creative approaches to social, cultural, and environmental change through impactful projects.
Below are the 7 projects selected out of a pool of 30 submitted proposals in 2019 and that currently being implemented in their respective countries and communities.
Atlantic Dialogues Emerging Leaders's projects
Girls in Biotech (GIB)

ADEL 2015 | Prince Boadu - Ghana
Girls-in-Biotech's main goal is to create feminine friendly platforms and opportunities for empowering women scientists to enhance their participation in the biotech field in Africa. This will be attained through various strategies including the implementation of labs well equipped for capacity building, research & development, rapid prototyping...; organizing national biotech competitions; and establishing GIB clubs in universities and high schools.
About Prince | Prince is Senior Supply Specialist at Procter & Gamble, Darmstadt, Germany where his work in the Personal Healthcare division is focused on the Middle East & Africa cluster.
Light Up Internally Displaced Peoples Camps with Solar

ADEL 2017 | Michael David Terungwa - Nigeria
The main goal of the project is to promote the use of renewable energy for internally displaced people's camps. This will be attained by: a 5-day training for a hundred participants in solar system installation and maintenance; provision of small standalone solar systems to a hundred households providing clean energy access to the people in camps; production and distribution of locally made energy efficient stoves; awareness and sensitization campaigns.
About Michael David | David is the Founder and Executive Director of GIFSEP- Global Initiative for Food Security and Ecosystem Preservation based in Nigeria; Mike advocates, educates and mobilizes communities to respond to a changing climate.
RE-NEW IT

ADEL 2015 | Teocah Dove - Trinidad & Tobago
RENEWIT's aim is to help with the socio-economic situation in Guyana through capacity building and energy. The company intends on implementing a multi-prong capacity building and a 7-month training program in solar system maintenance. Aside from providing electricity to an average of 2500 people, the training will engage 80 participants (60 women under the age of 35 and 20 men) and broaden their employment opportunities.
About Teocah | Teocah dedicates her efforts & resources in the Caribbean as a Social Entrepreneur, through her eponymous foundation, & as a consultant with development organisations, public & private sector institutions & civil society. With a passion for using ICT for empowerment & social transformation, and of recent, Artificial Intelligence (AI) for social good, Teocah's work surrounds human & social development, youth, community, women and girls empowerment, HIV/AIDS, poverty alleviation and renewable energy.
Oasis Agrytech Hackathon (OAH)

ADEL 2017 | Touria Benlafqih - Morocco
The Oasis Agrytech Hackathon project is aiming to preserve the Draa Tafilalet region's natural and human resources from climate change consequences. It will focus especially on a couple of hundred local young adults ranging from 16 to 35 years old, through a 3-day event where they will be mobilized and trained by some twenty local and national experts into scheming entrepreneurial solutions and opportunities for the region, a panel of judges will select by the end of the event one of the pitches to fund and implement.
About Touria | Over 10 years of experience in development project management, monitoring and evaluation, communication and awareness campaigns, fundraising and capacity building in non government organizations and international organizations, in the field of environment and sustainable development, social entrepreneurship and income generating projects, and advocacy.
iCAD

ADEL 2015 | Mbuih Zukane Retruyap - Cameroon
The iCAD is an environmental friendly business whose goal is to recycle household waste and animal droppings to produce green energy in the town of Dschang. The production of the artisanal manure is facilitated through a digitalized customers' waste management procedure through social apps and texts. Moreover, the company rears chicken and pigs to use their droppings with the waste collected as well as sell them making the eco friendly business more lucrative.
About Mbuih | Freelance Consultant in International Cooperation, Decentralization, Interculturality and Youth Policies, with an accumulated 12 years of experience. MBUIH is a Senior Youth Worker and an International Cooperation expert by profession. He lectures youth leadership, policy and Animation as a transversal course in Cameroon's 3rd largest University (Dschang), since 2009. He is a co-founder of the African Network of Youth Policy Experts and currently allotted the post of Director of Finance and Audits. He is also the founder and CEO of a youth-led organization dubbed InterCultural Alliance for Development, whose mandate is to bridge gaps, thus fostering sustainable development through safe and sane cultural practices.
SecureFarmer

ADEL 2017 | Seyi Oyenuga - Nigeria
SecureFarmer is a Nigerian company that uses a smart data driven approach and new technologies in order to develop sustainable farming communities; maximizing farmer productivity; targeting youth and women, encouraging them into the field by developing real inclusive opportunities in the agricultural space. SecureFarmer is also exploring other profiles from Emerging Leaders within the agricultural, data and technical fields to further develop their platform.
About Seyi | Seyi Oyenuga is an industrial entrepreneur with over 12 years experience working in America and Nigeria. He serves as Executive Director and Head of Agriculture Division of ATMANCorp, a vertically integrated agriculture and food processing company based in Nigeria.
African Futures Conference (AFC)

ADEL 2017 | Jessica Berlin - Germany
The African Futures Fund is a concept that evolved from a Networking Conference to a whole ecosystem dedicated to entrepreneurship. The idea is to bring together all elements necessary to create an African entrepreneur network. The fund's goal is to cut ties with traditional aid mechanisms and establish an "inclusive innovation ecosystem" that brings together all actors (partners and participants from public and private sectors) that goes beyond major African economies to reach its pan-African ambition, taking into consideration the potential input of disadvantaged young entrepreneurs. Moreover, the AFF aims to establish an African made database that will be a reference for future projects.
About Jessica | Jessica Berlin is the founder and managing director of CoStruct, a strategy consultancy working at the intersection of business, technology, and economic development. CoStruct consults public, private, and nonprofit organizations on innovation strategy, program design for tech and entrepreneurship initiatives, and market entry in emerging and frontier markets.
You are receiving this email because you have subscribed in the past, attended one or more of our events, have contact with our staff or Fellows or broader network. We consider that you want to keep receiving our think tank's publications unless you unsubscribe from our mass mailing system.
Unsubscribe from this mailing list | Update your details | Other requests
Policy Center for the New South
Complexe Suncity, Building C, Av. Addolb, Albortokal street, Rabat, Morocco
www.policycenter.ma | contact@policycenter.ma

© 2019 Policy Center for the New South. All rights reserved.