Under the High Patronage of His Majesty King Mohammed VI, the Policy Center for the New South organized the eighth Edition of its "Atlantic Dialogues" Annual Conference from the 12 to the 14 December, in Marrakech, with the participation of 486 guests from 61 nationalities. Under the title: « The South in the Time of Turmoil», the theme of this year's conference has come to continue and supplement last year's topic which had focused on « Atlantic Dynamics: Overcoming the Choke Points ».
The Atlantic coastline of Africa faces common challenges such as coastal urban growth, energy access issues and lack of infrastructure. In this regard, the Policy Center for the New South has considered it necessary to build bridges over this space, and stimulate thought and dialogue. The Atlantic basin represents a unique potential where experiences from the North and the South get together, as a traditional partnership that needs to be strengthened, and a South-South relationship to be reinvented.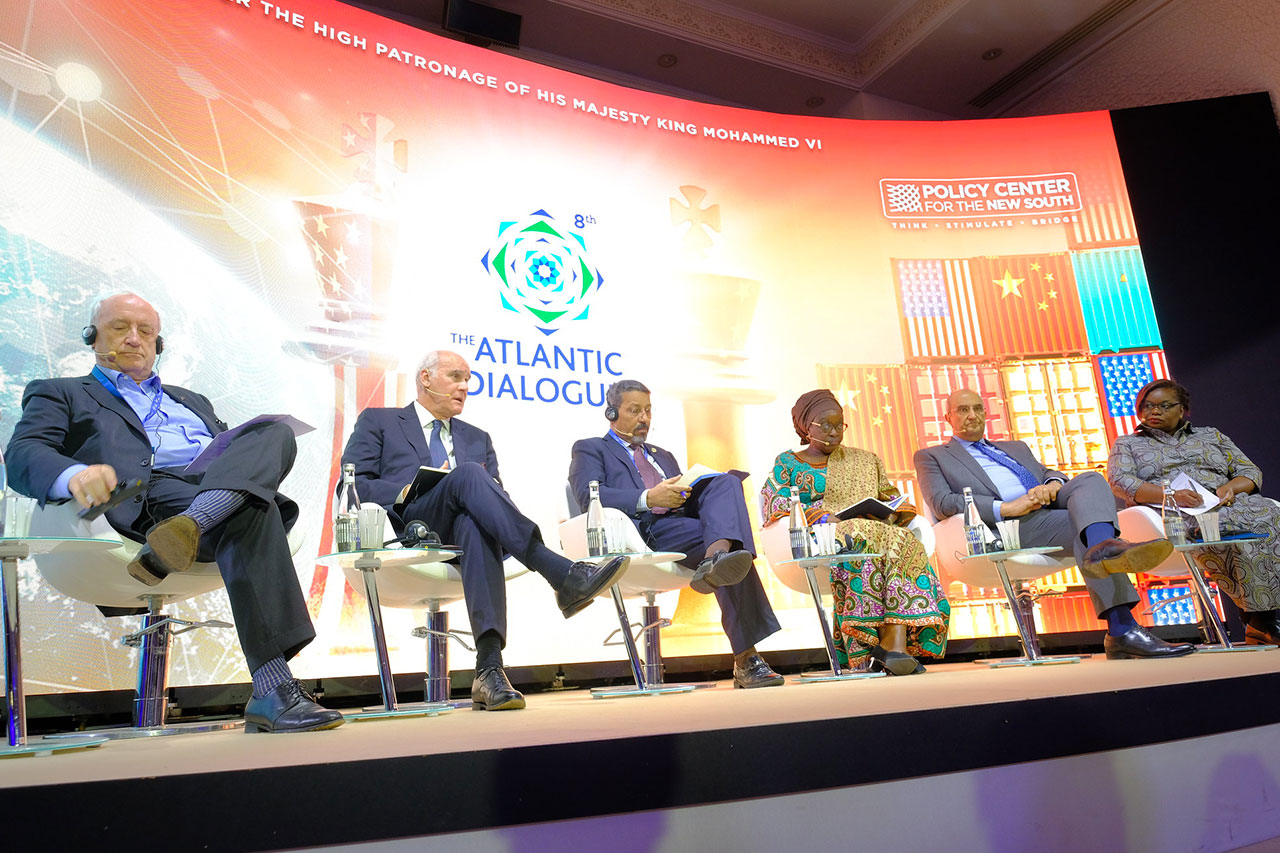 Highlights from this week
Croissance économique au Maroc Théories, évidences et leçons des expériences récentes
Numéro spécial des Cahiers du plan
Le Policy Center for the New South publie en partenariat avec le Haut Commissariat au Plan (HCP) le deuxième volume des Cahiers du Plan sous le thème: « Croissance économique au Maroc : théories, évidences et leçons des expériences récentes ». Cette publication survient à la suite d'un séminaire organisé conjointement avec le HCP en mai 2017 dans ses locaux à Rabat …
How to Create an Energy-Smart Food System
Opinion | Karim El Aynaoui
Across Africa, many rural communities still depend on manual and animal power for their farm needs, whether it is for production, harvesting or postharvest activities. In fact, in sub-Saharan Africa, engine power represents a meagre 10 per cent of all energy used on farms, compared to 50 per cent in developing regions...
L'énergie solaire en Inde : priorité au photovoltaïque
Policy Brief | Henri-Louis Vedie
L'Inde est confrontée, aujourd'hui, à plusieurs défis énergétiques : • Assurer la sécurité énergétique du pays, en généralisant l'accès pour tous à l'électricité. Ce qui n'est pas le cas en 2019. • Le faire en réduisant sa dépendance aux énergies fossiles, afin de mieux répondre aux orientations des Conférences des parties, COP 21 et COP 22 …
Global Economic Outlook: is the Glass Half Full or Half Empty ?
Opinion | Hamza Saoudi , Oumayma Bourhriba
After a long spell of slow growth post-crisis, the global economy's recovery was mainly supported by the improvement of emerging markets and developing economies growth. However, this recovery is subject to wide-ranging uncertainties and is now in some danger. According to the IMF ...
The Policy Center represented in national & international fora
Le Policy Center for the New South a été représenté par Isabelle Tsakok (Senior Fellow), Fatima Ezzahra Mengoub (Economiste) et Rim Berahab (Economiste) au Forum Malabo Montpellier, à Banjul, Gambie. Les discussions du Forum de décembre 2019 se sont articulées autour du prochain rapport du Panel Malabo Montpellier, lequel propose une étude des connexions entre l'énergie et l'agriculture en Afrique.
Our president, Karim El Aynaoui spoke at the plenary session setting the scene of the Africa Students & Youth Summit in Rabat, a high-level dialogue held this year under the theme: "The Future of Work - Prospects and Challenges for Young People."
The theme of the session, which is the first plenary in the program, is Africa's role in the changing world, and what competitive advantages the continent should build to be influential in a globalized world.
You are receiving this email because you have subscribed in the past, attended one or more of our events, have contact with our staff or Fellows or broader network. We consider that you want to keep receiving our think tank's publications unless you unsubscribe from our mass mailing system.
Unsubscribe from this mailing list | Update your details | Other requests
Policy Center for the New South
Complexe Suncity, Building C, Av. Addolb, Albortokal street, Rabat, Morocco
www.policycenter.ma | contact@policycenter.ma

© 2019 Policy Center for the New South. All rights reserved.