The special online edition of the Annual Conference on Peace and Security in Africa, named for the occasion APSACO Talks, has been held with success and a larger audience than usual. The total viewers have exceeded 7500 persons.

Human security and the Global Peace Index
On the last day of APSACO Talks, on September 25th, two workshops on the measurement of human security in Africa and peace have been held, in the presence of Jalal Abdel Latif Senior fellow of the Policy Center for the New South and Mahamat Saleh Annadif, head of Minsuma and former Foreign Affairs Minister of Chad.
Talking about multilateralism, Mahamat Saleh Annadif said that "problems regarding Africa are discussed at the United Nations, in the absence of Africa. The Security Council's reform is a necessity. The voice of Africa must be heard".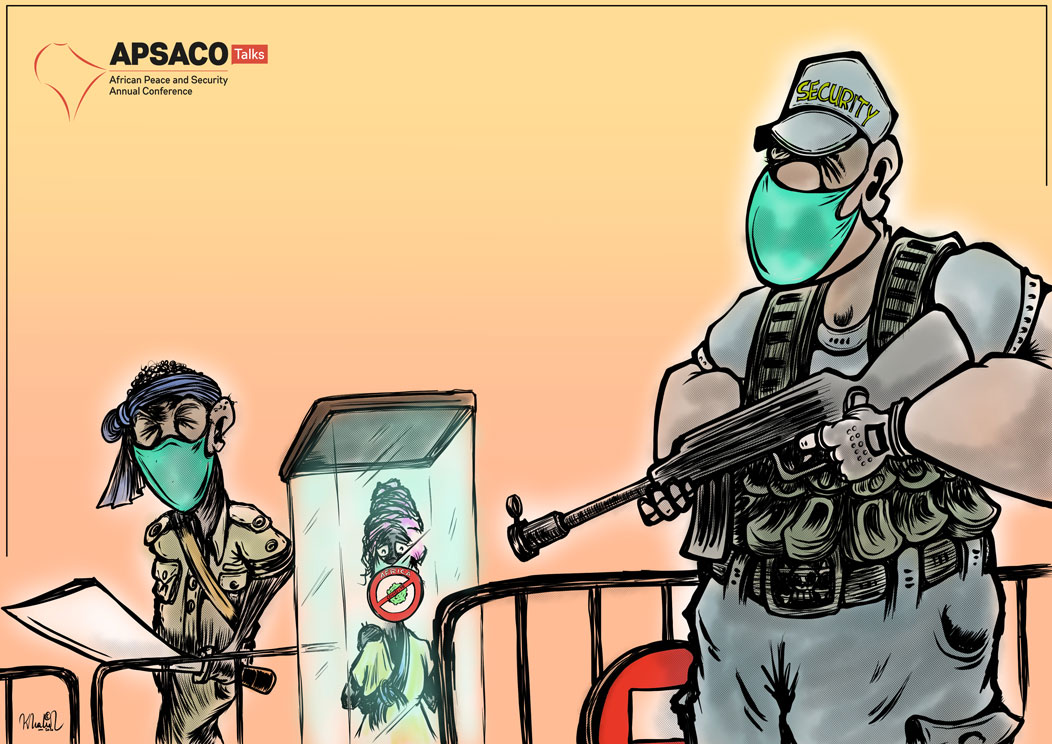 Privatization of Violence in Africa: Non-State Armed Groups and Private Security
The second day of APSACO Talks led to a panel moderated by Alioune Ndiaye (Senegal), Head of the Peace Division of the Islamic Eduction, Science and Culture Organization (ICESCO), has dealt with the many reasons for the private use of violence by terrorists, organized crime, vigilantes and militias.
Rida Lyammouri, Senior Fellow of Policy Center for the New South, reminded that the first main actors destabilizing the Sahel are the jihadist groups. Other actors are involved in the level of casualties, such as the national and regional armies, the Sahel G5, the French operation Barkhane, but also the vigilante groups operating in Mali and Burkina Faso, where civilians are armed by the State to provide security in the north of the country. This is dangerous, as there are ethnic-based vigilantes with specific agendas going beyond the protection of their communities – sometimes intentions of revenge or access to economic interests. National and international partners could focus on sidelining individuals or criminal networks destabilizing the region.


The Security Sector in Africa During and After the Covid-19 Health Crisis
This panel, moderated by Badreddine El Harti (Morocco), Principal Security Sector Reform and Rule of Law Adviser for the UNDP, started with a focus on Ethiopia thanks to Yonas Adaye Adeto, Director of the Institute for Peace & Security Studies (IPSS).
The Covid 19 crisis has already had a strong impact on weak or "failed" States, such as the Central African Republic (CAR) and the Democratic Republic of Congo (DRC), explained Saïd Abass Ahamed (Comoros) director of Thinking Africa. It has reinforced the lack of money for ongoing security reforms projects, since the early 2000's in the Great Lakes region. While the countries affected like DRC and CAR will have to find funds by themselves, this return to a national level of decision may insure a more sustainable effort for peace.

Policy Center for the New South
Complexe Suncity, Building C, Av. Addolb, Albortokal street, Rabat, Morocco
www.policycenter.ma | contact@policycenter.ma

© 2020 Policy Center for the New South. All rights reserved.